See the Good in Grief
Our mission is to provide a safe environment for grieving children, teens and adults to explore and express their feelings related to the death of a loved one and to learn to thrive in a world without that special person.
Good Grief
We started in 1999 as the first grief camp for children. The needs of our community demanded more, and we expanded into a teen camp, and then the first comprehensive grief center in 2005.
In 2017, we added two more center locations to serve more of our community.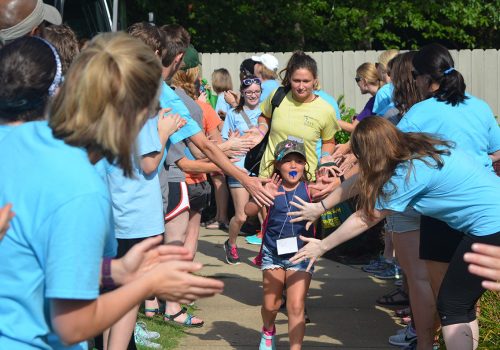 AJ's Good Grief Story
"Good Grief" Trailer
Our Journey
1999
First Camp Good Grief for Children Opens
2001
First Teen Grief Camp Opens
2001
First Camp Hope Opens in New York City
2003
First Adult Grief Camp Opens
2005
First Comprehensive Bereavement Center Opens in the Mid-South
2009
First Camp Mend-A-Heart Opens in Alaska
2010
Kemmons Wilson Family Center for Good Grief Opens in Collierville, Tennessee
2016
Partnered with the University of Memphis for a Research Project
2017
Milla's House Opens in Midtown, Memphis
2017
NEA Grief Center Opens in Jonesboro, Arkansas
Impact of Our Grief Programs
Children and Teens say the centers have:
Helped them express themselves and be more open
Improved their psychological symptoms like anxiety
Helped them understand what grief is and made them feel that it's okay to grieve
Helped them understand and give meaning to their loss
Improved family communication and strengthened their family bonds
Strengthened their desire to help others
Helped themselves and their caregivers move forward together
Many kids noted a positive change in their family and better family communication as a result of coming to the Center
Adults say the centers have:
Helped their children open up and express themselves
Given their kids someone to talk to
Given their children therapy sessions that they really look forward to
The services at the centers have:
Helped caregivers understand their own grief
Served as a source of comfort and common support system
Provided a comfortable outlet for emotions
Provided helpful coping skills
Provided helpful parenting skills
Provided unbiased and non-judgmental feedback in a supportive manner
Improved family dynamics and communication (e.g., brought families closer)
Be the Good in Grief
Your gift helps others find hope and learn to thrive again after the death of a loved one.